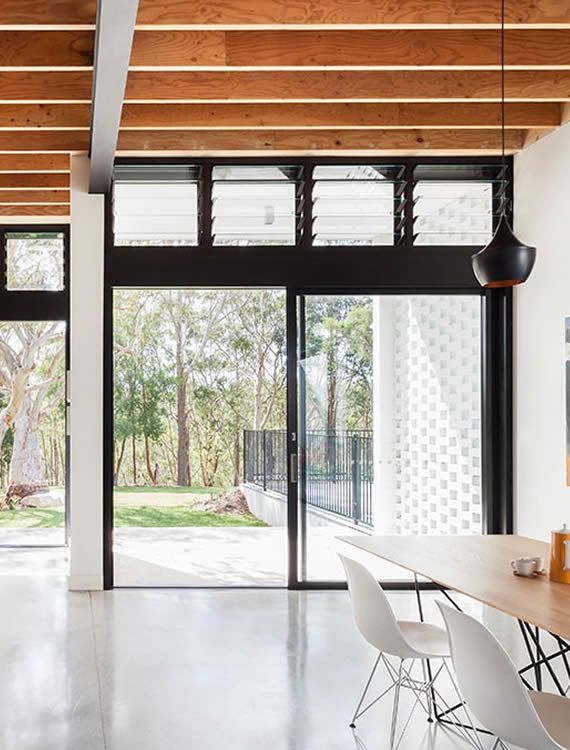 Aluminium Doors
The aluminium doors from Glassified are highly durable and stylishly designed products that are available in different sizes and configurations. It means that you can install them in individual residential properties, residential apartments, and commercial buildings. These custom-made doors are designed to enhance the value of your property with a visual appeal while giving a highly-secure access point to your home or office.
The design of our aluminium sliding doors perfectly addresses all the primary objectives of a sliding glass door. It allows maximum entry of natural light into rooms and helps to make the home or office more energy efficient. It offers maximum space for both interior and exterior applications and becomes an ideal choice for people who love effective use of space. With the exceptional thermal performance, you would also see your energy bills coming down.
Important Features of our Aluminium Doors
High-quality making that is compliant with the Australian Standard AS2047 certification
Improved security with Lockwood Onyx locks, including twin locking beaks
Extreme weather resistance with a sturdy design to prevent water and extreme temperature
Affordable pricing with a focus on adding value to the product
Excellent durability due to high-quality aluminium make and less maintenance
The Sliding Feature
People are generally concerned with the sliding mechanism of these doors as derailing and uneasy sliding are the most common issues with sliding door tracks. When it comes to the aluminium sliding doors available in Sydney from Glassified Aluminium, you get a smooth sliding experience with a smart roller system with non-corrosive properties. It comes with all moving parts that avoid the possibilities of damaged internal components, scrapping, excessive wear, and more. It also implies that our sliding doors give excellent lifespan.
Configurations and Sizes
We provide aluminium sliding doors in a wide range of sizes and configurations where you can choose the product based on your property requirements. We offer sliding doors with two, three, and four-panel designs.
While coming in two panels, you would find one panel fixed, and the other panel opens to the left side. In the case of three panels, the panel at the centre is free to move while the side panels are fixed. When it comes to four-panel sliding doors, both the panels at the centre are designed to move while the side panels are kept fixed. You can also find a three-panel configuration with the right panel is made to slide while the centre and left panels are kept fixed.
In an attempt to give you the best possible customisation, we provide each standard configuration in three standard sizes, customised sizes & design are available. Therefore, you have more choices when you need to install a sliding door on your patio, rear, or side of the home.
Call Us Today to Choose Your Product
Get in touch with us today online or call us at 0477 507 507 to know more about the aluminium sliding doors
24/7 call-outs
Highly competitive rates
Expert workmanship
Both repairs and replacement
Reliable service
100% Satisfaction Guaranteed
Get a Free Quote for Aluminium Sliding Doors

To find out more about what we can offer to meet your Aluminium Sliding Doors Sydney needs, and to organise an obligation-free quote, get in touch with us today on 0477 507 507 or email us at info@glassified.com.au. Whether you are ready to get started or just have a simple enquiry, we are more than happy to discuss your options.